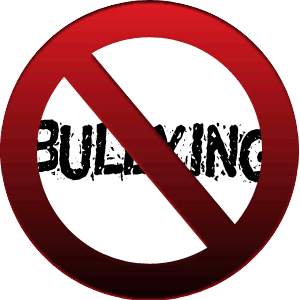 Rant: beware!
We found out this week that my little guy was being bullied on the way home from school. Not cool!
Thankfully, we found out that the boys who were doing it, will not be around in that area to do it anymore. *whew* But the problem is that my son didn't even tell me about it until the end. It made me so sad. (He has a disability and didn't realize it was as bad as it was. It wasn't until he got hurt that it became apparent to him.)
We live in a time when people are bullied. Not just kids. I read a few weeks ago about people getting bullied at work. By ADULTS. I could not believe it! Did we forget to grow up or something?
And then something happened to us. A text was misconstrued by someone (we offered to help them with babysitting and they must have thought that we thought they were terrible parents. I don't understand it myself.)
Anywho, this person decided to retaliate and posted something on facebook about us. We were very disheartened and surprised that they acted so irrationally and defensively. We were honestly just trying to help out. (Remind me not to offer to babysitting to people unless they approach me first.)
Okay, so what does this have to do with writing? I'll tell you...
This week there was controversy about a very popular writer and how she should stop writing. Huh? (I'm sure if you are in the writing community, you've heard about it). But it wasn't the popular person I was worried about (let's face it, she's awesome and will keep writing...and did I mention, she's awesome?)
But what about the woman who posted the bullying words? I couldn't help wonder if she was being bullied herself for what she said. I am almost sure she was. Although I DO NOT agree with her opinion (because did I mention the popular writer is AWESOME? She really is and my daughter just finished reading her books...and cried...Proud mom here.)
But can I just say...I'm tired of the bullying. It needs to stop. And for one, I'm going to stop it here in my home. I'm going to talk to my kids about it. I'm going to take things a little bit slower when I get an electronic message if I don't understand it, AND I'm going to eat some chocolate!
TAKE THAT BULLYING!
Rant over!